last update:
June 19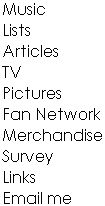 FionaDates

September 1999
Likely release of Fiona's new album. Read about it here.
New Album Watch

to read all the information that has been accumulated regarding Fiona's new album to be released in September, go here.
The FionaNews mailing list

Subscribe to the FionaNews mailing list to hear and trade news about Fiona as it happens.
Welcome my freinds in Fiona to the new and improved This Mind This Body & This Voice. Everything navigates pretty much the same, so fear not. More changes to come... in the meantime, visit my Fiona Eruption Page for all the information that had currently been uncovered regarding the new album.







The Voice's Fiona News Archive
If you have any comments, or if you'd just like to chat, email me! ThisVoice@hotmail.com